M.U.S.I.C Program SATF Rehabilitation Program
Raised so Far: $15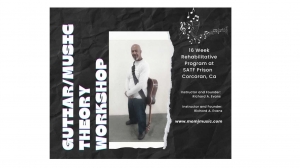 Description:
We are raising funds to send instruments and materials for the rehabilitative music program started by Inmate Richard A. Evans BD2696 in CDCR SATF and State Prison at Corcoran in California. Mr. Evans has created a 16-week Guitar and Music Education program while serving time in Corcoran. As of now he has been able to get the program on 2 other yards besides his. The program is gaining momentum and bringing a positive change to his facility.
Mr. Evans is an accomplished musician and photographer who performed under the stage name Raer Beast and was the founder and CEO of Music 4 Autism Awareness, a nonprofit in northern California that used music to bring help to families like himself with Autistic Children. He created free outdoor concerts that would bring out agencies and regional resources for care of family members. 70% of the artists that participated had a family member that was autistic. He and I have been doing shows and music together in the region since 1994. He is currently 5 years in on a life sentence and to keep his mind and help those incarcerated with him he developed this Music Program and is also doing Coordinating talent shows within the facility to help keep peace within the system with the inmates.
I have been funding the projects from my personal budget because I am a small Music LLC. I am a Solo Gospel Artist and Podcast host of the "Gospel Drip" on The Coyoteman Show Network.  So far, we have been able to purchase a left-handed guitar and strings for him through Amazon.com because he is a left-handed player, but they need more for the program.  
We have purchased:
·         Essential Dictionary of Music Notation: Pocket Size Book (Essential Dictionary Series) Essential Dictionary Series
·         Alfred's Essentials of Music Theory: A Complete Self-Study Course for All Musicians (Book & 2 CDs) A Complete Self-study Course for All Musicians Essentials of Music Theory
·         CNZ Audio Acoustic Electric Left-Handed Guitar, Solid Spruce Top, Mahogany Back & Sides, Natural Matte Finish, On-Board Pre-Amp
·         ASURION 4 Year Music Accident Protection Plan $175-199.99
·         D'Addario NYXL1254 Nickel Plated Electric Guitar Strings, Heavy,12-54 - High Carbon Steel Alloy for Unprecedented Strength - Ideal Combination of Playa
·         3 Pack | SOUGIC Silver plating Acoustic Guitar Strings (.012-.053) Anti-rust steel String set, Rich Expressive Sound Excellent Clarity, Bright and Well-
·         The Guitarist's Scale Book: Over 400 Guitar Scales & Modes By Peter Vogl
·         How to Read Guitar Tablature: A Complete Guide to Reading Guitar Tab and Performing Modern Guitar Techniques (Beginner Guitar Books) Beginner Guitar Books
·         Left-Handed Guitar Chord Book by Peter Vogl,
·         Guitar Chords: Easy-to-Use, Easy-to-Carry, One Chord on Every by Jake Jackson
·         Blank Sheet Music for Guitar: 120 pages | 6 Staves and 6 Chord boxes per page | 8.5 x 11 Inch
We are open to any materials for music education you may have available. We are going to need more than the one copy of each book to keep his program progressing.
We are looking to find other options for musical instruments than Amazon and need a list of vendors that are acceptable for us to order materials and instruments from to be sent in as his M.U.S.I.C. Program grows. We are also looking to find sources of funding to help us purchase the needed materials.
MoMJ Music LLC is glad to be of assistance in this wonderful rehabilitation and education program. We believe music is a great equalizer and can solve a lot of problems by creating a positive outlet for the inmate. Mr. Evans was a band mate of mines in the 90's and an asset to MoMJ Music and MoJ Production shows and productions.