Brianna McColl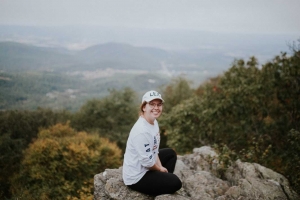 Description:
This Spring I have been accepted by International Justice Mission (IJM) to become a Security Fellow at their field office in Kampala, Uganda!! This year-long fellowship would give me the opportunity to join IJM's fight to protect the poor from violence. I will be serving on the Global Security team as a Security Fellow, providing analysis and support to our offices throughout the Africa/Europe region.
As I join IJM in finding ways to advance their mission of ending human trafficking and modern-day slavery, I will need YOUR help to get there. I am asking that you partner with me in this fight, as both a community of support, and also financially if you are able.
Mission Statement:
The mission of IJM is to protect the poor from violence by rescuing victims, bringing criminals to justice, restoring survivors to safety and strength, and helping local law enforcement build a safe future that lasts. IJM has implemented their programs in field offices all over the world, combating forms of violence such as violence against women and children, the online sexual exploitation of children, human trafficking, bonded labor, and police abuse of power. The stories of strength, rescue, and restoration that I have seen come out of each office through my time working at IJM's headquarters in DC lit a fire in my heart, and I am so excited about this opportunity to go into the field, and use my skillset to join in the fight.
As my fellowship with IJM is unpaid, I have been challenged to raise the funds necessary for me to take advantage of this opportunity. I will need to pay for monthly accommodation, utilities, groceries, and not to mention the vaccinations, visa requirements and plane tickets I need to purchase to even begin this journey. This all might seem a little overwhelming, but any amount that you can give will be greatly appreciated! Whether a one time donation, or if you would like to pledge to give a designated amount every month, your gift will provide me with the resources I need to take these next steps, and see what the year has in store. Support fundraising my salary is a huge leap of faith for me, but I believe that I have a community of people who can help me go above and beyond my goals so that I can travel to Kampala, and do the work that I feel I have been called by the Lord to do.
Basic Information
| | |
| --- | --- |
| Country: | United States |
| Region: | Virginia |
| City: | Arlington |
Areas of interest