HOG Honors Jim Shortley
I Pledge My Support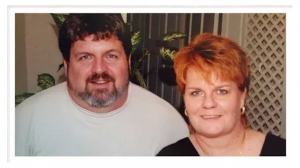 Description:
Jim has always worked hard for his family. He kept running his business in Florida after he and his family moved to GA in 1992. He sacrificed time away from everyone while he traveled back and forth, sometimes being gone from home for weeks at a time. He suffered with diabetic neuropathy for years and then he got SHAR-CO (SP) which caused him to have a major bone removed from his foot. This caused him to be disabled. Into the wheelchair he went and never came out. He continued to travel back and forth to Florida with his manual wheelchair and eventually was able to travel with his power chair. He was able to do this until 2008 when the building industry and economy were hit hard. He lost his business of 32 years in 2009. FAST FORWARD......Over the years he has been in and out of the hospital for many health reasons. This latest event has been very difficult for him and all of his family.
March 15, (Monday) he seemed a bit off. He had home health care worker drawing blood and he just wasn't himself. Tuesday comes and he's just off. Wednesday morning 3:00 a.m., Linda gets a call to come down stairs, only to find that he doesn't have enough strength to move from the bathroom. His body is completely shut down. 911 is called. They get him back to his recliner, where he sits the whole next day. He's not getting better. Linda calls his doctor and she advises to call an ambulance.
So, on March 17 he leaves the house by ambulance, being taken to Paulding Hospital. He stays in Paulding for two weeks, where they have diagnosed him with NON ALCOHOLIC CIRROHSIS OF THE LIVER. That is what was shutting his body down. From Paulding he goes into rehab in Fulton (the only place that had a bed available). Since most nursing homes are not allowing visitors, we never see him while he stays there for two weeks. Bad things are happening there....he's getting an infection under his arm and he's getting anxious about it, because it doesn't seem like they are treating it properly. They give him ATIVAN, to help with the anxiety, which only escalates the anxiety, because it's affecting his liver. They call the house many times reporting that he has fallen out of bed....four times in nine days. One time he goes to Grady and they discharge him back to Fulton. Two days later he's back in Grady after his fourth fall. (Something is terribly wrong). The meds are making him irrational....His body is being attacked. In Grady they find that his body and brain are full of AMMONIA from the ATIVAN. He spends two weeks in Grady to detox his liver and now has to find another rehab. One facility that was available was one hour south of Macon. That plan was falling apart, but another facility came up in Conyers. He is currently in Conyers. No rehab has actually been done since leaving Paulding because of all the issues going on. As of today, (August 19) they are still working on getting him to be able to at least transfer from one chair to another and to the bathroom. The good news is that he has lost 70 pounds which will help him with the transfers, when he gets to that point.
The family members have had very few visits with him over the past five months. That has been the most difficult part for all of them, especially Jim. He wants to be out by Thanksgiving. The family is hoping that's possible.
Linda is still the full time caregiver to her adult daughter, who has MS, and is also in a wheelchair.
Thank you for the support and prayers.
Basic Information
| | |
| --- | --- |
| Postal: | 30144 |
| Country: | United States |
| City: | Kennesaw |
Areas of interest
| | |
| --- | --- |
| Kennesaw, United States | Map It |