PCMP
I Pledge My Support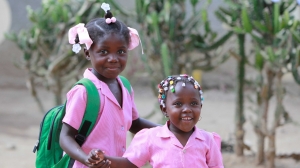 Description:
Our Mission:
We support community transformation through a Christ centered education and positive spiritual development.
Our Story:
  Jude Augusma is a Haitian born pastor and educator with over 20 years of experience in International ministry. Pastor Jude has devoted his life to the calling God has placed in his heart to spread the Gospel to the world, starting in his community of Fontaine, Haiti.
Growing up on the small island nation was extremely difficult. Enduring the hardship of poverty, political upheaval, and disease made him question why God made this his home. But God is good and He is good all the time. God answered Jude's doubts and prayers through blessings beyond his comprehension. By God's grace, Pastor Jude was led to the small fellowship of Philadelphia Church in the neighboring community of Fontaine. A single room shed was being used as an all-purpose educational space. There, God gave Pastor Jude the opportunity  to use his passions of preaching, teaching and discipleship within the church community. He started the first Christian school in Fontaine in 1997. In May 2005, Jude and his wife Rosiana moved their young family to the United States.  Jude has been blessed to be able to find work, provide for his family, and seek educational opportunities for himself, his wife, and their 3 boys.
While living in United States, Jude has used  his vacation time and any available resources to return to Haiti  whenever possible. On these return trips, Pastor Jude has continued to provide discipleship and spiritual guidance to the Philadelphia Church, continued to act as the school administrator while overseeing the growth of the school, and has lead Mission trips to Fontaine, Haiti.  With each blessing, God has reminded him of the importance of never forgetting where he came from.  Through all these circumstances, the yearning of his heart has always been to return to full time ministry in Haiti.
While currently residing in Grimes, Iowa , Pastor Jude and his wife are in the process of transtioning to full time minsitry in Haiti. Their desire is to be able to focus all their efforts on fulfilling the mission of their ministry known as Philadelphia Christian Mission of Pignon.
Recent Updates:
In April 2022, Philadelphia Christian Ministry of Pignon, became a 501(3)c non-profit organization. Currently there are 350 students, grades pre-k to High School attend the Philadelphia Christian School in Fontaine. The school employs 48 teachers  and 14 administrative staff. The Philadelphia Church continues to grow. 
Current Projects and Initiatives:
We are currently building a new  building to accomodate a Kindergarten classroom. God willing, it is our desire to have this building completed by the start of the new school year in August . Also, we are adding an addition to the church building to accomodate the growing church. One of our goals this year is to be able to  increase teachers salaries as funds become available, in order to remain competive with the salaries the teachers are receiving in other schools in the area. 
Future Plans and Initiatives:
We are currently researching the feasibility of starting a Chicken project that will provide an educational opportunity for the students as well as food for the school. Future plans also include construction of an indoor vegetable garden, establishing a vocational school for young adults and building a medical clinic in the community.  
Basic Information
| | |
| --- | --- |
| Phone: | 515-943-2208 |
| Email: | [email protected] |
| Website: | none |
| Country: | United States |
| Region: | Iowa |