Jangelicas Foundation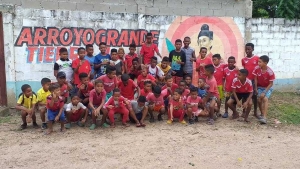 Description:
We connect people in the fight to end poverty. Working together, we invest in the lives of children and youth, helping to improve the healthy environments they need to thrive and motivating them to create lasting change in their own lives, families, and communities.
Your support makes this possible even in the midst of a global crisis. modifying programs to continue serving our children and families during the pandemic.
We are committed to achieving sustainable results and recognize that clarity, learning and growth are the foundation of the work we do together. When we harness this union collectively, we have results in our cause.
We are a passionate team driven by purpose and deeply committed to our mission. We seek change and create meaning in our work together. Collaboration, communication and teamwork. It allows us to go further than we could alone.
Look for talent in each person, everywhere. We believe that each person has extraordinary abilities and talents waiting to be explored. We always believe in change.
Jangelicas Foundation Corporation's emphasis on community engagement provides for fighting poverty and achieving the development goals of the countries we serve. Our experience working with families and communities since 2014 has shown us that escaping poverty can be a realistic goal when we join forces.
Basic Information
| | |
| --- | --- |
| Phone: | 7863465523 |
| Email: | [email protected] |
| Address: | 17104 SW 95th Terrace |
| Postal: | 33196 |
| Website: | https://www.jangelicas.org |
| Country: | United States |
| Region: | Florida |
| City: | MIami |
Areas of interest
| | |
| --- | --- |
| MIami, Florida, United States | Map It |